Kings Head Chess Club
Trip to Cappelle la Grande 2018
We are planning our usual trip to Dunkirk at the end of May Bank Holiday weekend 2018 to play our friendly match against Cappelle la Grande (and surrounding clubs) at the Palais des Arts et des Loisirs.
Club members can choose to play 3 games or fewer against the French team (Saturday afternoon, Sunday morning and afternoon). Friends and family are welcome.
New members will receive an invitation to join the trip. See our pre-2017 pages to get an impression of the weekend.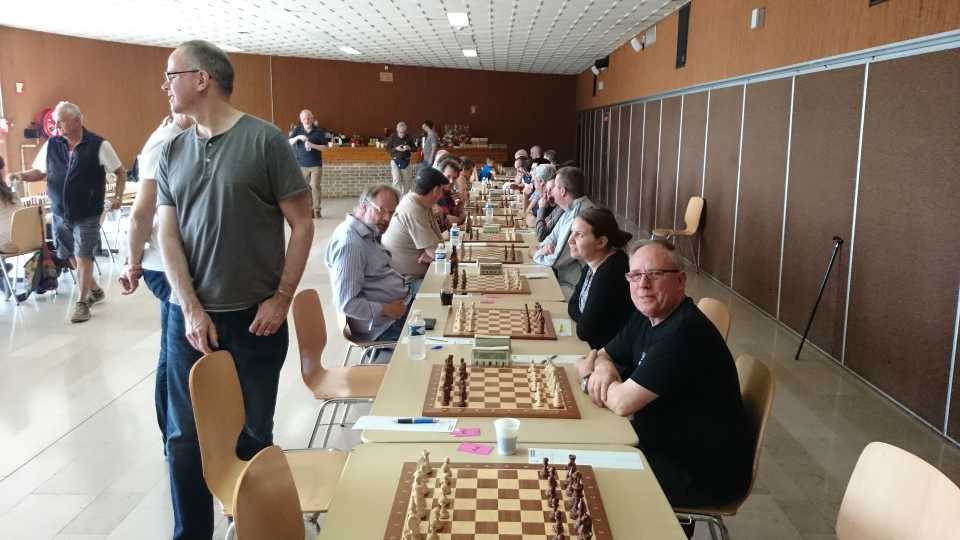 We travel on Friday morning 25th May 2018 and get back to London in the afternoon of Bank Holiday Monday 28th May.
Cost of travel depends on numbers, but is generally around £50. We stay in a hotel in central Dunkirk: bed and breakfast about £75 per night for 3 nights. Bus travel from Dunkirk to Cappelle la Grande is free on Saturdays and Sundays. See the dkbus website for maps and timetables.
The Dunkirk tourism website contains lots of useful information for exploring Dunkirk.
The Cappelle Open
Each year (usually in February), the Cappelle la Grande Chess Club organises a 9-round Open International tournament in the Palais des Arts. Up to 2016 this was one of the largest opens in the world, with up to 750 players. Here is a photo taken before round 1 of the 2016 Open.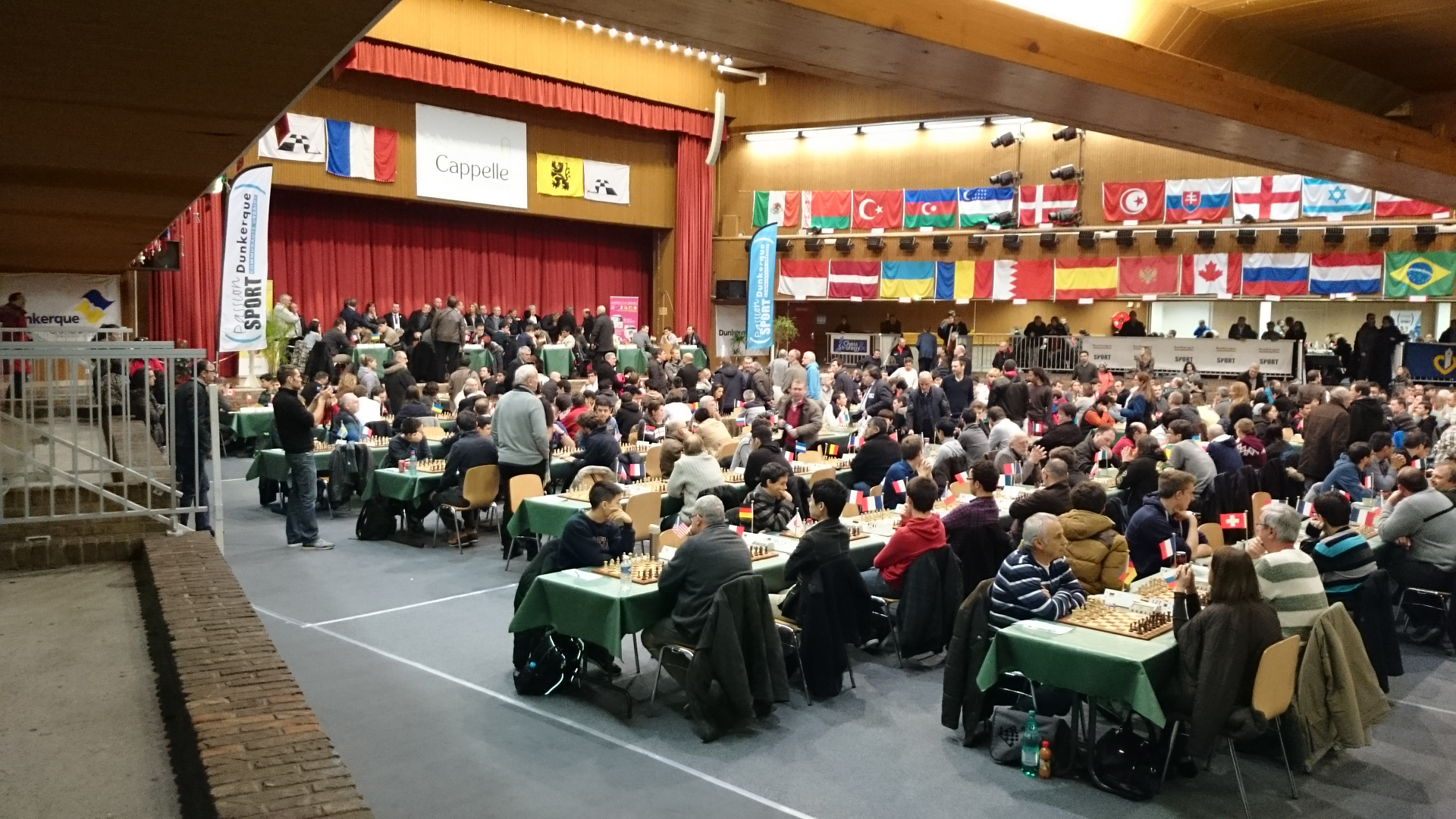 Europe-wide austerity politics have affected the Cappelle Open, particulary the numbers of top-level players. However, it is still a great tournament for club players. The 2017 open had 220 players from 10 countries (see photo).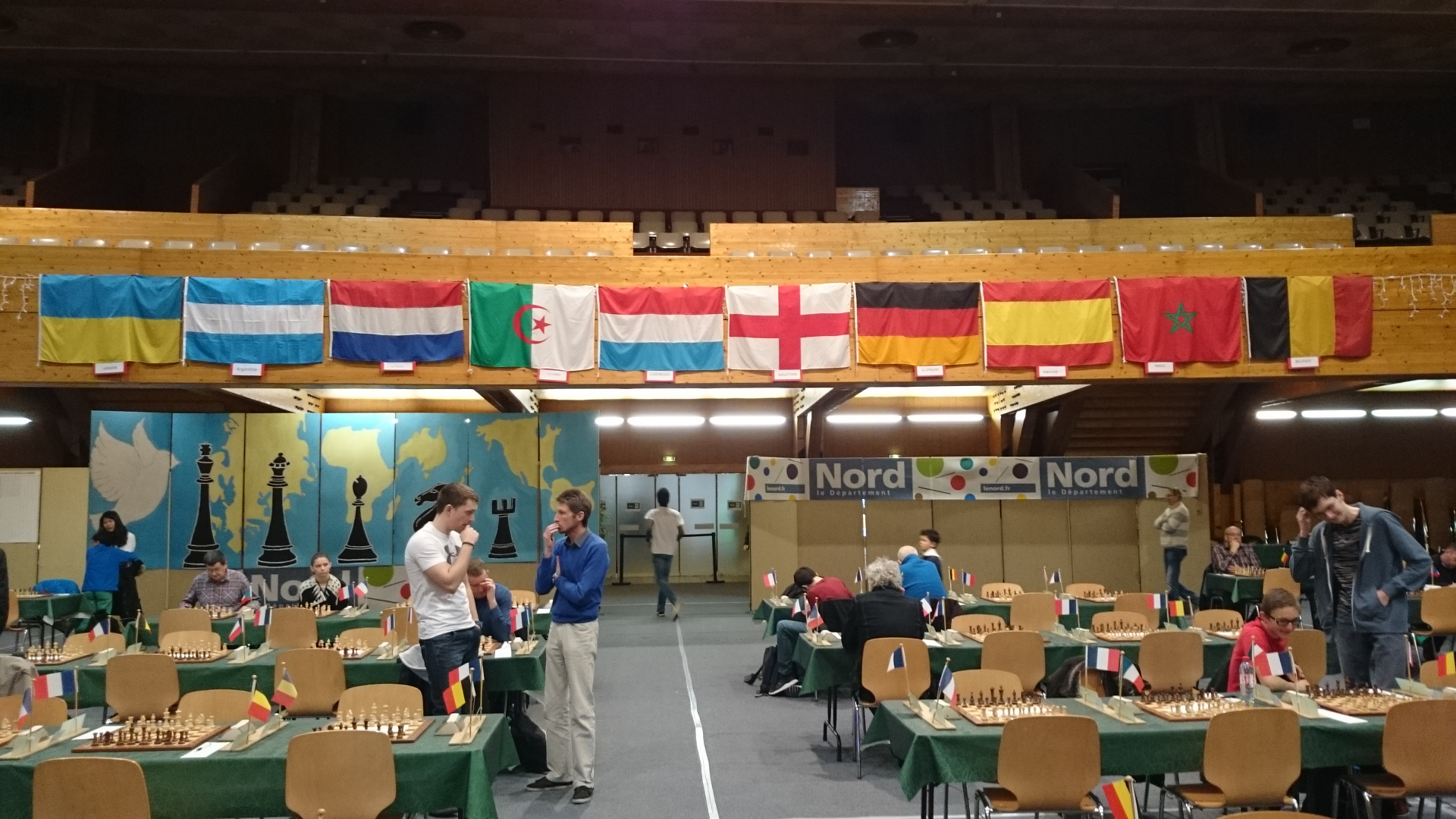 This year the tournament is from 3rd to 10th March according to
FIDE
.
Nearer the time, the Cappelle chess website will have further details.
Several Kings Head players have played in previous Cappelle opens ... take a week off to improve your French and your chess!