By Graham Brown Home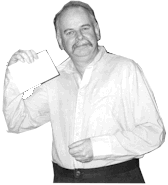 Steve before we hit the pub! >
From November 9th-12th 2000 we returned to Leuven for the 12th Leuven Open. The four of us who went last year, (the first pioneering KH members to try this tournament) were all present again ... well it was such great fun last year! This year there were more members: Richard Balatoni, Graham Bolt, Mark Huba Stephen Berry, Rick Thomas John McVicar, Alistair Morton Graham Brown and Ronald Crooks. And this made it even more of a laugh ... but we had success too ... Thanks go to our leader Mark Huba for discovering this fantastic tournament and chess club ... and arranging the accommodation and travel ...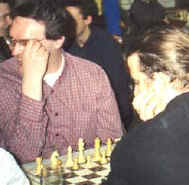 Richard Balatoni & Rik Thomas, our other two winners >
Steve Berry came 1st this year!!! having been unlucky last year not to win any money. For example see GrandmasterBlaster. He came away with near on £500! And we had a great cheap drink up on the last night because Rik Thomas won a few bob for 12th with 5 points and Richard Balatoni won even more bobs for a magnificent 4 points and a grading prize. 4 points is a good score in this tournament full stop! John McVicar powered to 4 points as well. Graham Bolt - (a KH member from the days when we actually still used the Kings Head Pub, now living in Gloucester) had a fantastic start, beating a 2223 and drawing with a 2244. Rustiness meant he only ended up with 3.5 points. He was also unfortunate to be paired against the Berry! Your author scraped to 3 points with the usual variety of lazily prepared gambits, tricks and surprises, but his Englund Gambit held up surprisingly well (1. d4 e5).
Mark ended on 2 as did Alistair and they were both rather disappointed with their overall play but Marks eating and Alistair's drinking were of GM strength! Last but not least ... Ron! 1 point ... terrible but ... last year's grading prize tempered it!
And there is always next year ...
You can see some of our games on the board below by clicking on the drop down box and using the arrows. You can also have the games played automatically for you by clicking the round button on the right. Look out for Graham Bolt's win against 2223 Van Mechelen, a double rook sac against Mark!, some powerful Rik play, including his usual endgame mastery.- rook and pawn master class- , and Steve on his way to first prize. Enjoy!
Please click the down arrow to reveal the drop down box to see the games. You may also download a pgn file of these games to see what your computer thinks of them! Download Leuven.pgn
Final Standings
1st Equal Stephen Berry 2279 6
12 Rick Thomas 2272 5
37 John McVicar 2101 4
45 Richard Balatoni 1616 4
49 Graham Bolt 1928 3.5
73 Graham Brown 1712 3
103 Mark Huba 1464 2
104 Alistair Morton 1440 2
114 Ronald Crooks 1470 1
All in all this was great fun again and the food and drink were fantastic and great value. The hotel was superb and for about £20 a night with massive breakfast and cable TV including BBC1 for Match of the Day!
Desperado Leuven Club were very happy to see us and we look forward to seeing them next year. 20 people next year!?
Steve Berry Interview
Now here is an interview that Desperado Leuven Club took with "Nice Steve Berry", who they now treat quite correctly as a God having seen him mash up GMs and IMs over the last 2 years.
Chess-file: Stephen Berry
Ten English players of chess club KingsHead from London visited the tournament. Their club won several prizes. Nice Steven Berry shared first place (and prize money) with Jerome Claesen with 6 out of 7 but the M.B. calculation made home player Jeroen Claesen the official tournament winner. In any case we felicitate Stephen full hearted with his performance and thank him for this interview.
Current Elo? 2279
Who taught you to play? - I was still very young when I learned to play chess. I think I was six years old. There was some chess being played in the family and of course I started playing too.
What clubs are you a member off? - KingsHead in London
Biggest success? - This is the first tournament where I end up so high.
Best chess book? - "Chess Games" from Tarrash.
Best player anno 2000? - Kramnik. He's just won the WC against Kasparov.
Best player of all time? - Steinitz
Favourite player? - Botwinnik.
Do you own a chess computer/program? - I hardly work with computers. I'm no computer addict. I used to run Genius from time to time.
Will a computer ever become world champion? - Yes. But there will always be matches between people. The computer remains a machine. Machines are faster than people, animals are faster than people, dogs run faster than people, but never-the-less do we still want to know which human being is the fastest and do we organise athletic competitions.
Do you smoke or drink during a chess game? - I don't smoke. Drinking alcohol, I do after the game. Here I tried to be disciplined though. Beer is one of the attractive sides of your country and we are here as tourists anyway, we want to relax. We arrived Thursday evening and will stay until Monday. In the past we already visited Gent in Flanders and La Capelle in France. And yes, we played in the tournaments.
Advice? - You have to learn openings. The days are gone that you can play chess based on insight only. You have to blame the computer for that. So read good opening books!
Desperado Leuven - a history of the club by Frank Beckers.
In 1989 the small chess scene in Leuven fell apart. For many years, apart from 'Schakul' (a club of students and servants of the K.U.Leuven but which doesn't exist anymore), the local club of Leuven had been 'Lustige Vrijpion' ('cheerful past pawn'), one of the oldest and stronger clubs of Belgium. But in September of that year, eight 'dissidents' broke apart and created their own group. The reasons have become somewhat vague over the years but basically they were just a group of close friends mostly interested in having a good time... and playing chess.
The new founded club met Friday night in the Thierbraü (a pub in Leuven which has disappeared) with Jacques De Crock as first chairman. The baby needed a name and after a long nightly brainstorm the 'outlaws' came up with Desperado, in full 'Leuvense Schaakdesperado's', in short ...LSD.
With such a name and as some of the members, like Boni Vandermeulen, were fairly well known, everybody who played chess in our country knew quickly enough there were now two clubs in Leuven. A 'serious' one with top players such as Serge Vanderwaeren and many highly rated players; and a second club with good old Boni where, as the rumour went, chess was being played till 6 in the morning, but of which the ratings will be covered with the cloak of charity.
A year later the club moved to 'Ons Huis' where today the club still resides and hopes to stay for many years. Boni Vandermeulen became chairman and the first team rose to fourth division in the national competition.
As the years went by many of those first founding members started playing less or stopped altogether, as is regretted every year at the Annual Meeting, but apparently that's part of life of a chess club. Fortunately, new faces appeared almost every season, which brought about a slow but steady growth and rejuvenation. The gang of eight grew halfway into the nineties into a club of eighty members with on average 40 people playing on club nights.
The season '93-'94 was an especially good one for the club. A third team joined the national competition and thanks to the transfers of Bart Van Praag (Vrijpion), Marc Weiler (Vrijpion) and Frederik Pieters (youth player from Zoersel) Desperado was significantly strengthened chess-wise. We could also rely on the services of 'our' Russian, blitz champion Sergey Mikhailov, who in his younger chess years even played at the side of Anatoly Karpov in the university team of Moscow. Results didn't stay away, Desperado won their first cup: champion of Vlaams-Brabant!
In November 1994 we had the VIth Open Tournament, the first new tournament in Leuven since 1988 when Vrijpion had it organised for the last time. To celebrate the lustrum of Desperado our chairman put forth the plan to organise a tournament again. As you might have guessed, it became such a big success with 92 participants that we now organise yearly a tournament.
1995 too became a strong year for Desperado.Mikhailov, after a year of work and chess in Leuven, regrettably returned to Moscow, but there were reinforcements: amongst others Geert Verbeek and Koen Jans, both +2000 Elo, joined our ranks. Therefore we didn't have much trouble retaining the title of Vlaams-Brabant. The next year the first team promoted for the third consecutive time. Desperado had reached second division!
In 1997 we reclaim the championship title of Vlaams-Brabant which we lost to Vrijpion in 1996. Led by Stefan Roosen a real youth program was started which caused the number of youth players to rise from 4 to 25. Desperado even enrolled a youth team into the national competition and for the first time a youth tournament was organised alongside the regular one.
1998 was the year of the youth. In Ostend, Saroja Jacobs became Belgian Champion in the category girls under 12 years old and Charlotte Maggen vice-champion in the category under 10. Because of this accomplishment they gained the right to participate in the world championship in Oropesa del Mar in Spain. The same year also Desperado won the Flemish national competition for youth under twelve.
The last season, 1999-2000, was one of contradictions. Even though club membership decreased, some strong players left and less people participated in the club evenings, we still managed to promote one of the teams again. So we can look back on ten years of national competition without once a team degrading!
The new year brings many challenges. After so many years, Boni Vandermeulen lays down his function as chairman and is replaced by Johan Vanhaverbeke, who for years used to be the club secretary. The first priority of the new 'board' is to make the club evening more popular again. We'll also have to struggle hard not to let any team degrade, a task many see as impossible given the weakening of the last year…
So you see: the pub team of the past has grown up. Desperado is now the biggest club of Vlaams-Brabant and all players in the first team are +2000. Still, despite the growing professionalism we try as much as possible to keep the ambience and easy going atmosphere of the early days.
Frank Beckers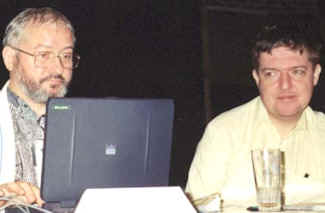 My God ... there's ten of them this year!
12th Open Tournament of Leuven
9-12 November 2000
(organised by Desperado Leuven)
Frank Beckers reports

Desperado has got the taste for it! The 12th Open Tournament of Leuven is just over and the club announces to organise next year a new youth tournament on Saturday 4 November and from 8 to 11 November the 13th Open Tournament. After all these years everything went very well. According to some even too well. How are we going to fill our booklets now without any accidents?
With 116 participants the last tournament scored about 30 players less than the previous year, but this is still the third best attendance result since we started to organise the tournament. Unlike previous editions the higher rated players did not attend. The only grandmaster present was Alexander Dgebuadze (2536), but he did not seem to have been in best form. By allowing too many draws, he put himself out in the race for first place even though the second rated player, Serge Vanderwaeren, had 200 rating points less. The thirdly rated player, Danial Saibulatov, was the only other player with a +2300 rating.
No less than ten English players of chess club KingsHead from London visited the tournament. Last year some of them have already participated as well. Apparently they enjoyed the city of Leuven and the Belgian beer so much they now came with a greater delegation. As Mark Huba said if it wouldn't have been for the stormy weather and floods in London before the tournament, even more players would have travelled along. Some of them had to stay at home to clean up the mess from the water damage. At good-bye they promised to come back in 2001 and said we might even be expecting about 20 of them!
The first round started Thursday 9 November 2000 after a minute of silence in memory of home player Johan Borst, who has passed away some weeks before the tournament. Bernard Malfliet and Manfred Grede were the arbiters. The results of the first round reflected perfectly the rating differences between the players. On practically all boards the highest rated player won. The only surprises were the losses of Viktor Yudin (2093) against Geoffrey Lhost (1734) and Frank Albert (2014) against Stijn Van Noten (1671).
Already in the second game on Friday, Dgebuadze loses his first half point when he gets no further than a draw against Laurent Bruno (2208). Jeroen Claesen (2253) and Serge Vanderwaeren (2338), who will keep playing on first board until the end, take the lead.
We also note the first player to withdraw from the tournament but Koen Heynen (2098) and Natal Maes (1930), both from Desperado, join for the second and third round respectively. Koen starts by winning three games in a row but must then recognise the superiority of Jan Van Mechelen (2223). Natal wins his first game against Mark Huba (1464) with a beautiful combination to get a final result of 4 out of 5!
Round 7 starts with only two players left to have the maximum number of points: Serge and Jeroen. Serge though has to give in to Stephen Berry (2279) who wins and thereby shares first place with Jeroen who draws against Tom Croonenbergs. For the first time since our club organises the tournament a Flemish player, and one from Leuven, wins the tournament. The last Belgian player to win the tournament was...Pieter Claesen, elder brother of Jeroen. In those years the Vrijpion still organised the tournament.
Nice Stephen Berry of KingsHead later said this was his best tournament result to date. With 5.5 out of 7 Serge Vanderwaeren ended up in third place together with 6 other players, amongst whom Alexander Dgebuadze and Viktor Yudin. Yudin started with a loss but ended strongly. Noteworthy is the fine accomplishment of twelve-year old Amarjargal Dorjbar who already won the category under twelve in the youth tournament and scored 3.5 in the open.
And what about the Desperado's? With 4.5 out of 7 Thomas Massoels was the highest scoring club member and won his rating category. Also Alex Dubrulle won a prize in his category.
Final standings:
Jeroen Claesen 6.0/7 Stephen Berry 6.0/7 3. Serge Vanderwaeren 5.5/7 4. Danial Saibulatov 5.5/7 5. Claude Bikady 5.5/7