Alan Parsons the man who beat the same player Gurevich beat at
Gent says "I am sure my victory will be just the boost Micky Adams needs in
his quest for the world Championship Graham Brown reports
"... I played crap ..."
McMichael
"... Rick Mac - Super Hack !! ..."
" ... Parsons vicartorious !? ..."
" ... lan & Rick Cash in ! ..."
" ... PARSONS IN POLE POSITION- WINS GRAND PRIZE !!!
Rick shaw of second with draw ..."
Parsons Imperial Mint
Pragmatic Parsons wins Kensington Rapidplay with 5.5/6
Sunday August 15th 1999

ALAN PARSONS took 1st place at the excellent Kensinton Rapidplay (see home page for details) yesterday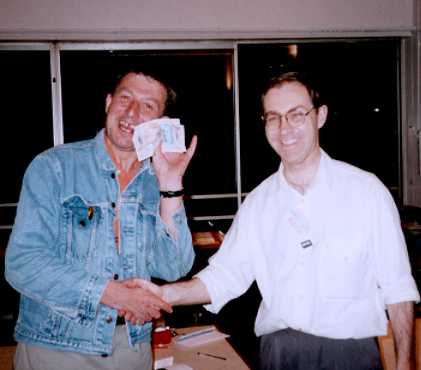 .
He romped home with 5.5/6 which could have been a perfect 6. However on being offered a draw and certain 1st spot he pragmatically accepted. Thus £80 was his and ours to drink to add to the £75 he took last time!
Another Winner
Rick McMichael come 2nd in the Open but wasn't happy with his play. I would have been happy, since he won £37 without expecting to. Check out his "lucky" win against Michael Franklin. (Who I'm sure is almost famous) At the end pawn takes rook is strong!. However, Rick did point out that 24. Rd2 e3 25. Rd3 g5 is rather good for Black anyway!

Kings Head Win College
The Kings Head Chess Club have won so much money from the last 3 Kensington Rapidplays that I can see the time when the whole of Imperial College University is given to us by a bankrupt organising committee. Maybe soon Senior Lecturer professor Alan Parsons will give his first lecuture in room AP3455 on winning by a nose. The student bar would become ours too with 5000 pints still to drink. We must therefore continue to hit this tournament hard with our best players..

Mediocrity and Beer
Also there were Di, Paul, and myself, but we just contented ourselves with mediocrity and beer!